On the 6th of Feb 2009 it has finally happened! We've had the official dedication & opening of our new mission compound.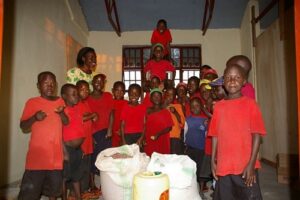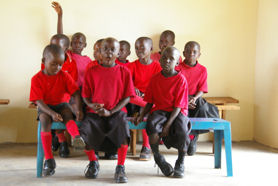 The guest of honor was the cultural leader of our local tribe; His Highness the Kwar Adhola, Moses Stephen Owor. He is the King of the Dhopadhola's and he was escorted by his Prime minister and other cabinet members.
We also had a big delegation form Germany and Holland. The chairman of Holland had brought 7 people and from Germany we had the Chairman & Vice chairman 10 persons in total.The event was a smashing success!
We had invited 200 people and more that 200 came. Many of our colleagues, preachers and missionaries of the district.
A local dance-group made it all very colorful.
Towards the end, the children,Workers and leaders of the organization stood in a circle, and then all the pastors who came stood around and blessed us as they prayed for the Lord to bring to fulfillment the vision He has given us. That was a fantastic moment and now there are 24 orphans who have found a safe home where they can learn to live a Godly life. It is so good to have all these little kids running around the compound. They seem to absorb all the attention like a dry sponge,obviously they were not used to all this attention.
Another interesting event is that while we were preparing for the new school-year, we found our Head-Teacher of the previous project had come to Tororo to take some time off. This is the lady that Grace mentored herself while in Namugongo. She told us that she wanted some time to unwind and we felt that she could as well do that with the tiny school we were just about to start! It feels like Rachael & Grace had never been apart!
And now we still need to look for sponsors for all these cute little orphans… well, not all but we need about 12 more sponsors to be able to pay all the monthly bills.
Would you please pray with us to see this come true?
Blessings to you all and thank you for making this event possible!